Almost there: Mastering React Test-Driven Development, Second Edition
The second edition of Mastering React Test-Driven Development is due for publication soon. This edition has a decent amount of new and updated content.
You can pre-order the book via: the Packt website, Amazon US, and Amazon UK.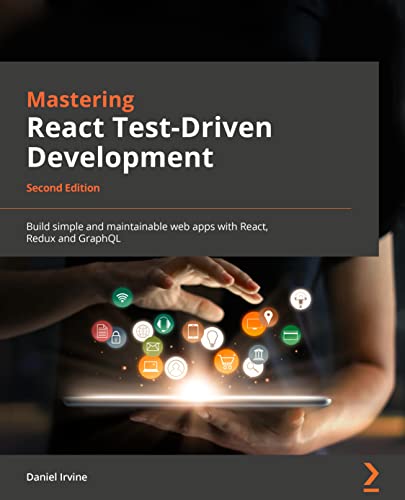 There was a lot of material that didn't make the cut, and I'll post all of that on ReactTDD.com over the next couple of weeks.
What's changed in this edition?
All code samples updated for React 18
Simplified implementation of tests and helpers

Focus on one expectation per test
Simplified test framework design
Replaced toHaveBeenCalled with toBeCalled
and others

New content on test-driving Jest matchers (replacing use of expectation group functions)
Improved content on BDD and Cucumber
New content on builder functions
Module mocks with jest.mock rather than relying on ES5 module behavior
Replaced shallow rendering with component mocks
Replaced use of the Simulate API with plain JSDOM dispatch
Replaced use of defaultProps on components with ...testProps in test suites
Introduced nested describe blocks for stub scenarios
Better usage of semantic HTML elements and ARIA attributes
Re-written chapters on React Router, Redux and Relay
You might notice that there's no mention of server-side components, which is one of React 18's headline features. That was intentional. This book continues to focus on helping you improve your automated testing practice. And if you've got the fundamentals in place, testing server-side React should be no problem for you.
If you've got questions about the new edition, please get in touch via my website.
— Written by Daniel Irvine on August 19, 2022.
---